Hallo meine Lieben,
I hope you are all doing great! It is still cold and windy and rainy over here in Germany but I am hoping for 20 degrees Celsius and some sunshine this weekend.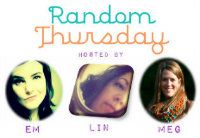 I am happy to have my Random Thursday link-up back! This is this week's topic and you can join here.
Bad habits. Hmm. I don't bite my nails, I don't smoke....but I can't get rid of old magazines.
Especially the ones I paid a lot of money for. Science magazines, music magazines and so on. I have tried to get rid of them but I always think that I might want to read them again at some point. I have music magazines that I bought ten years ago. Maybe I can sell them to a collector at some point. You never know....
I finally recycled some old fashion magazines though. It's a start.
What is the bad habit you can't break?