Hallo meine Lieben,
how is your day going? I am pretty excited because I will go to see Muse tonight in Cleveland. Woohoo. I have never been to a concert of that band but I like the music for years. It's time! Can't wait!
I am sure it will be lots of fun to wait in line in the freezing cold. 28 degrees and snow. Here I come.
Well, time for another awesome Random Thursday topic with these girls.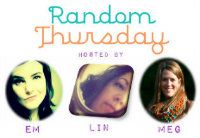 Oh well, I only have one day? I guess it will be a busy day because there are so many things I would like to change, stop, do.....let's start.
source
I would stop factory farming. End experimenting on animals. I would transform all kill-shelters into no-kill-shelters. I would offer my palace to all the animals in need. Harsher penalties for animal abuse. I would close all the fur farms and search for a new home for all the poor foxes, bunnies, minks and so on.
source
I would fire some politicians. Well, a lot of them. Most of them. In general I would try to make the world a better place.
source
I would legalize same-sex marriage. Everywhere. Because I can't believe that you an marry your cousin in most of the states but not the partner you love.
source
Well, I would definitely make it illegal to use onions in any kind of meal because eating onions is a torture.
If you were queen or king for a day, what would you do?