Hallo meine Lieben,
it is Tuesday again which means it is time for some more Ten On Tuesday.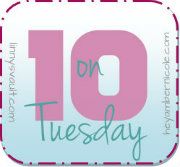 It also means that I will be back from Vegas tomorrow.
1. I can't wait to tell you guys about our trip to Vegas.
It feels weird to write this because right now it is Tuesday and I haven't even left for my trip. I am writing this in advance. But when I publish this the vacation will be almost over. Weird.
2. David and I started to watch a pretty cool new show called "Legit". Jim Jefferies plays a version of himself and tries to make his life more legit. It is hilarious. Have you watched it?
source
3. I totally feel like watching Friends again. I don't know how many times I have watched that show already but it just never gets boring. Unless you watch the German version. The voices sound weird and they did not do a great job when they translated the jokes into German.
4. I like falling asleep in front of the TV.
5. I totally want to get an iPad. I have used David's iPad and it is just awesome. Maybe this would be the perfect birthday gift for myself.
6. I am in love with my Crazy Rumors lip balm. It is called "Peppermint twist" and it is from the "Candy Cane" edition. I guess it makes a lot of sense that I had to buy a candy cane lip balm. I mean...landofcandycanes. Perfect.
Well these lip balms are awesome and I am totally planning on buying more of them. They are all natural and vegan which I absolutely love. They are also perfect for my dry lips. Nobody pays me to say this by the way.
source
7. I am pretty good at destroying electronic devices, David is good at fixing them. I guess that means we are a perfect match.
8. When I have the chance to add more pets to our household I want to adopt a blind cat and a three legged dog.
9. I admire the work they do at Blind Cat Rescue & Sanctuary. My lovely friend Miki who is also a crazy cat lady talked about this topic before. You should go and check out her post.
10. I love unusual animal friendships. Well, I love all kind of friendship. But this melts my heart.
source
Have a happy Tuesday and see you soon!