Hallo meine Lieben,

how is your week going? Hope you are all having a great time.
For me it is time for another Ten On Tuesday. And to pack my suitcase which I really hate.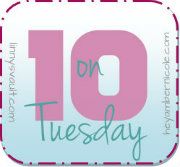 1. I can't tell you how excited I am. Tomorrow we will go to Vegas, baby! Yay! I know it will be awesome. Plus Lin will be there too. Woohoo.
source
2. I am pretty sure that I won't win any money when I gamble. That would just not be me. I lose money, not win.
3. David fixed the screen of my laptop. He is so awesome. I was scared that I would have to buy a new laptop. But gladly David knows how to replace the screen of a laptop. He is my hero. I always wanted to have a MacBook but it is nice that I don't have to spend that much money right now.
4. My knitting is doing some progress. I still have to learn a lot but it is so much fun that I don't even care that my scarf looks like a mess. I am just proud of myself. I will show you the end product once I am finished.
5. I recently watched a pretty cool and interesting documentary with Ewan McGregor. It is called "Cold Chain Mission" and I definitely recommend watching it. Ewan McGregor is on a mission to the ends of the earth to immunise some of the hardest-to-reach children in the world. In the first part they travel to India and Nepal and in the second part to Kongo.
After watching "Long Way Down" I just can't get enough of his travel documentaries.
source
6. Hermione is called "Hermine" in the German Harry Potter version. And Crookshanks is Krummbein. It's weird.
7. I called my first car Hermine. It was clearly a girl. I loved her. Cars definitely need names. Does your car have a name?
8. I cut myself in the thumb when I tried to peel a mango. I need to work on my technique.
9. I finally tried those vegan shrimps I bought and I have to say that they are fine but I am not overly excited. I roasted them in a pan with chili and garlic and ate them with spaghetti. I guess I would have been more excited if they would be called different. I just expected something else. They taste fine but not so much like shrimps (Not that I really remember how they taste...).
10. I won't be able to catch up on your blogs for a week but I hope you won't forget about me. I am preparing some posts and I can't wait to catch up with you guys again!
Have a wonderful Tuesday!