Hallo meine Lieben,
well this week's Random Thursday topic is a though one. But also a very interesting one. Maybe you already know that I am in Vegas at the moment but I can't wait to read your posts, girls! I want to know all about your embarrassing celeb crushes.
I am linking up with these lovely girls.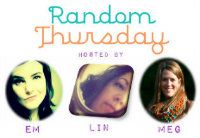 Let's start with an embarrassing crush I had when I was twelve.
I loved to watch a show called "Eine starke Family" which my American friends know as "Step by step".
Well, my favorite member of that show was Cody Lambert who appeared to be pretty dumb and lived in his van but he was also very kind and caring...chaotic and eccentric which I really liked when I was twelve.
I guess he was the main reason to even watch this show.
source
I had another embarrassing crush when I was maybe 13.
At some point I started to watch "Buffy the vampire slayer" which I totally loved. My hero was a guy called "Oz" who appeared to be a werewolf. This might sound weird but I totally liked a werewolf. Not Angel who everybody else liked. No, the tiny little werewolf guy. He was pretty cool and brave. Plus he is a werewolf. How awesome is that?
And now I want to watch Buffy again...
source
Do you have any embarrassing celebrity crushes? Please tell me about it!
Have a wonderful time and see you soon!