Hallo meine Lieben,
I hope you are all having a wonderful time and you are all able to stay warm. It is so freezing cold over here, I can't even describe it. We went to a concert in Cleveland last night and I almost froze to death on my way from the car to the venue. Which was only a 2 minute walk but enough time to die.
I am linking up with these ladies for some more Random Thursday.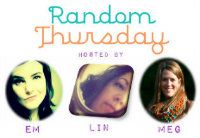 The topic is...
Well, this is totally my topic because I have a pretty bad ridiculous fear. I am scared of water. Not so much the water that comes out of the shower...I am even fine with the water in my bath tub. But any amount of water bigger than that freaks me out. Really. I mean it.
source
Even a pool is too much for me when it is deep enough. I need to be able to stand on the ground and have my head over the water. Then I am fine. Anything else...pure horror.
As you can imagine, beach vacations are probably not much fun with me. I never go swimming. Never. Not because I can't swim. I am just too scared.
I don't have any bad experiences with water. Probably because I never go swimming. It is just a ridiculous fear.
source
Not that I really have a fear of clowns but I can't understand how parents can invite clowns to their kids' birthdays. They are totally creepy and I don't want to meet a clown at night.
Maybe I watched "It" too often when I was a child...maybe.
These are my ridiculous fears. What are yours?