Hallo meine Lieben,
I am back from Vegas! We had such an awesome time and I have so much to tell you and so many pictures to show you. I am still a little confused to be back in reality without all the neon lights and the people who want to sell you some strippers so I guess for today I'll just stick to Random Thursday, try to wind down a bit and sort all the pictures and stories and tell you about the trip in the next days.
I am linking up with these lovely ladies.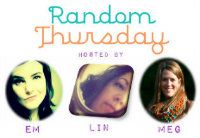 And this is the topic.
1. A trip to Vegas.
Well I guess that was the biggest purchase we did this year. We spent a whole week in Vegas which was so much fun. When we checked in at 1 am they told us that they were overbooked and that they would have to give us the Penthouse suite. It was nice to spend some time in a suite which bathroom was bigger than my first apartment.
2. Tickets to Vegas shows.
It was our first time in Vegas so we decided to go and see some of the shows. We saw Criss Angel, Mystere and Penn & Teller.
Penn & Teller are definitely my favorites. Their show is so smart and funny. Best thing was that we had the chance to take some pictures with them and talk to them after the show. Yeah, Teller talked too. He even called me "dear". Penn called everybody "boss" which was a little weird but also kind of cute.
Please excuse my stupid face expression.
3. A dress I did not wear in Vegas because it was too cold.
I found a really cute black studded dress which was 75% off. I thought it would be perfect to wear it in Vegas. But what can I say. It was way too cold for me to wear a dress. I ended up wearing my winter coat, boots and a scarf.
4. A lip balm.
I have never been to a Sephora store before. There is no such store in my area and the chain does not have stores in Germany at all. So I was pretty excited when I saw the store at the Forum Shops at Caesar Palace (definitely worth seeing).
I ended up buying a vegan lip balm. Which smells like roses. That's it.
Sephora
5. Two books.
I am currently reading the Carl Morck series by Jussi Adler Olsen. After I finished the second book I went to the bookstore to get the third book of the series. When I saw the fourth and last (so far) standing right next to the third book I just could not resist. I had to buy both of them. They are just too good.
Please tell me about your last purchases! And have a wonderful day!