Hallo meine Lieben,
time for another Ten On Tuesday post! You can link up here.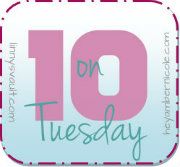 1. When I was a teenager I named my cat after Spike from Buffy. Spike is one of my favorite characters from the show and my cat was even more awesome. Loved (and still love) that little guy so much.
2. I am absolutely in love with these shoes from Alternative Outfitters. Aren't they adorable? They are vegan and absolutely perfect. I would loooove to own them.
3. My childhood hero is Pippi Longstockings (Pippi Langrstrumpf in German). I mean, she rocks because: she has her own house, a horse and a monkey, she is independent, her dad is a pirate and she is super strong. I have always wanted to be like her.
4. I need to write down notes for everything. I forget things. And I am old school. So I use paper and pen.
5. I got a couple of new books and I want to read all of them at the same time: some crime novels by Ian Rankin, Kathy Reichs and Arne Dahl, The know-it-all and a book about Ireland.
6. My latest food addiction are watermelons. I can't get enough of them. I eat them with the seeds because it is too much work not to. The problem is that I always call them "waterlemons" and I have no idea why.
7. I love to fall asleep while I watch a show or a movie. I don't know why but it feels very comfortable.
8. I still own my first stuffed animals and I love them so much. One of them is a bear which I got from my Mom. She already owned him as a child. And the other one is a donkey named "Esel" (which means donkey in German). When I had to go to the hospital as a child, he always went with me.
9. I also still own this train-thingy. I really had a fun time as a child. I love to look at old pictures.
10. I love to wake up in the middle of the night and realize that I can fall back asleep and don't have to get up.
Have a wonderful Tuesday!