Hallo meine Lieben,
hope you are having a wonderful Tuesday! It's time for this: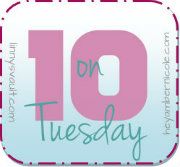 1. I finally started running yesterday and I have to say that I am a little proud. I really want to stick to it because it is kind of fun. It wasn't as bad as I thought it would be. I am definitely not in the greatest shape ever but I will work on it.
2. But I have to say it is not a good idea to put your key in your socks when you go running because it might start to hurt. My running pants have no pockets so I might have to get one of these armband-thingys where you can also put your iPhone in.
3. I really don't understand air-conditioning. Why do you want to have cold air blowing out of some holes in your wall or floor? It is just unpleasant.
4. My new favorite spread is called "White chocolate wonderful" and it is indeed wonderful. And certified vegan.
5. I am also addicted to zucchini and Irish breakfast tea.
6. We started to watch "By Any Means" yesterday and it makes me want to travel to some awesome places so badly. Charley Boorman travels from Ireland (!!) to Australia using 112 modes of transportation and only uses planes when he can't avoid it. Unfortunately he travels without Ewan McGregor this time. But Charley is such a fun and entertaining guy so I think the show works without Ewan.
7. I want to ride one of these.
8. I am currently reading "Notes from a small island" by Bill Bryson (among other books, I never only read one book at the same time) and I have to say it makes me very happy to read about England.
9. I need to find a similar book about Ireland. Any ideas? Or can you recommend other books about traveling?
10. I won a Shabby Apple gift card from Miki!!!! How exciting is that? Miki absolutely made my day when she told me about it (Miki, thanks again, you are so wonderful!). And now I need to decide what to get. I think I might end up ordering a dress but they have so many cute dresses and it is hard to decide. I am in love with this one I think....