Hallo meine Lieben,
I hope your week is filled with sunshine and happiness. It's time for another Ten On Tuesday post. You can link up here.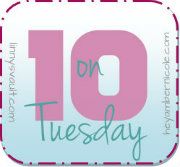 1. My mean English word of the week is "awkward". It always sounds awkward when I say it. So I handle it the same way I handle the other mean words: I try to avoid is as much as I can.
2. I have a tendency to pass out at concerts. I don't know, I just can't handle the sticky air, all the people around me etc.
3. I passed out at an Oasis concert for the first time. I was over ten years ago. I went to Cologne with a couple of friends and we were so excited to be in second row. I was a little sick that day and did not eat very much. At some point I realized that I did not feel that great and said "Oh no" to my friends and then I felt that they grabbed me. The next thing I remember is that I woke up head first hanging over the shoulder of a security guy. Luckily it happened before Oasis even started to play so I did not miss the concert.
4. I also passed out at a Franz Ferdinand concert. Again, I realized that I did not feel that great and told my friends to stay where they are (we had a good spot) and went to the bar. I ordered a water, drank one sip and then woke up laying on the bar with a lot of afraid looking people staring at me. They brought me to the paramedics who told me that I am the first one for that day. I said "yay!" and got something to drink and eat. I was lucky again because I did not miss a minute of the concert. At least I have a good timing.
5. I am still waiting for my package full of books to arrive. Hurry up, mail!
6. I have a new TV show addiction. I started to watch "Raising Hope" a couple of days ago and I have to say that I love the Chance family. They are hilarious. I want to move in with them.
7. This cat feels the same way I do every morning.
8. Country music is pretty popular in America but I realized that I don't know any of the famous singers.
9. I want to learn how to play piano, how to do magic and how to not be afraid of deep water.
10. I always get hungry at midnight.
Have a wonderful Tuesday!