Hallo meine Lieben,
time for another Ten On Tuesday post!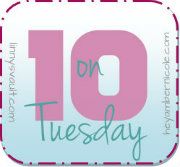 1. My current food addiction is all natural vinegar and salt chips. I love how sour they are. I have a weakness for anything sour or bitter.
2. Which brings me to the mean English word of the week: vinegar. Trust me, I always say it wrong.
3. I think David is in love with Charley Boorman. Which is totally cool because that guy rocks. I can't get enough of his travel documentaries.
4. Yesterday I saw my first groundhog in reality and I got very excited. I have also seen several little bunnies. This all happened during a hike and made me totally happy. The groundhogs were too fast to take a picture but I was able to snap one of a bunny.
5. I will never understand why people buy eggs from hens that have to live in cages. I mean, don't people know how these cages look? That the hens can't even turn around in there. That "life" is hell for these hens? I guess people don't think about this.
6. July is my birthday month.
7. I really need to watch Friends again. For the 36th time.
8. When I think about it...Chandler Bing would be a great name for a pet.
9. Watching Friends in German in horrible. The voices sound weird plus they screwed up so many jokes.
10. I am really happy that I started exercising again. I feel so much better. I just needed to get new running shoes and two very bright running outfits to get motivated.