Hallo meine Lieben,
it is Tuesday! Woohoo! It means it is time to link up with the fantastic Lin from Linny's Vault for some random Ten On Tuesday.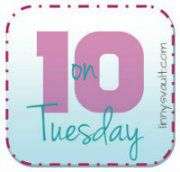 1. I am so far behind with all my shows. I think the only show I caught up with is The Big Bang Theory. Still one of my favorite shows. But there are so many others I need to watch but I just don't find the time or fall asleep in front of the TV.
2. I saw blue tissues in a store. David told me that's nothing special but I got totally excited because I have never seen anything like this before.
3. How can you steal seven paintings from a building? That is pretty fascinating! I am excited to see what will happen!
4. The German Fußballnationalmannschaft is awesome! Go Klose!
5. I would like to watch a movie this weekend but I have no idea what's new. Any suggestions? I guess I haven't watched a movie in over a month.
6. I saw such a cute dog today (okay, all dogs are cute): It was a dachshund-terrier-mix and he had the cutest ears ever. I would so love to adopt a dog!
7. I am the worst water drinker ever. I know it is healthy but it has no taste and I always want something with a taste.
8. I slept with two hot water bottles last night.
9. Isn't that the cutest hot water bottle ever? I wish it would be mine!
source
10. You guys are so awesome! You mean so much to me. Thanks for being there!
Have a lovely Tuesday!