Hallo meine Lieben,
it's Thursday again which means that I can write a post about a topic that these lovely ladies picked out.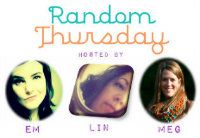 And that's this week's topic! I am definitely not a fashion blogger, I can't pose in my favorite clothes without looking like a clown. Trust me. I really feel like an idiot when I try.
That's why I decided to take some pictures of my favorite spring clothes without me wearing them. I apologize for the quality of the pictures. I had to take them with my iPhone and they are sub-optimal. I am really sorry. I hope you will still enjoy them.
So, let's start!
Shoes.
These are some of my favorite shoes. I really love ballerinas, even when some people think that they are the ugliest shoes ever. I love wearing them in spring. The two ballerinas in the picture are the exact same shoe, just in different colors. One is mint and one is beige. They have little bows on the top which I love. And yeah, I own these studded shoes in red, rose and black. The green pair is really old but I just love the bright color. I usually wear flat shoes but they have a little heel. And the red pair on the left is for rainy days.
(The shoes are all vegan by the way which means that they don't contain any leather.)
Tops.
The black one has little leopards on it, the white one dogs and has also golden studs on the shoulder, the mint one has some lace on the top. The one on the right has orange horses on it and the blue one raccoons. I love animals.
Pants.
One pair of jeans with a boyfriend cut, another pair which is dark green on the top and gets lighter green on the bottom, coral skinny pants, light brown ones, some studded grey ones, dark green, blue jeans with dots on them and some with a floral print.
Blouses.
I got the yellow/mustard one from my mother-in-law and I am absolutely in love with it. I never thought I could wear that color and I wasn't sure about it in the store but everybody told me to get it so I did. And the off-white ones are just awesome. I love some lace on my clothes.
Coats.
I guess most of you know that I am always cold and that is why I need a coat. Even when it gets warmer. You never know how cold it can get so you need to be prepared. The one on the left is a faux-leather jacket which I really love. The yellow one is brand new and really makes me happy. It also has a hood so it is perfect when it rains. The one on the right is really really old but I love the golden details on it and that is why I will never stop wearing it.
Dresses.
I don't wear a lot of dresses. I just feel more comfortable in pants but sometimes I think that I should wear them more often. I do have a couple so I just need to put them on. The one on the left has some little ducks on it and the right one some flowers.
Scarves.
The quality of this picture is really crappy. I am sorry.
But yeah, as I said, I am always cold which is why it is good to have a scarf with me. You never know when you will go to a movie theater and freeze to death otherwise. The left one is red with white dots and the other two have foxes on them. I love animals. Obviously.
There are also some items that I would love to add to my wardrobe.
This skirt for example.
Or these shoes: the Toms Navy Geometry Women's Vegan Classics.
So now I want to hear about your spring apparel? What are your favorite pieces? What are you planning to buy! Please let me know!
You can also link up here.
Have a happy Thursday!