Hallo meine Lieben,
I hope you are all doing well and have a great week. I also hope you are all safe and happy!
It's time for another Ten On Tuesday. You can link up with Lin here.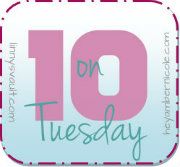 1. On Sunday I watched the first episode of "Bates Motel" and I can't believe that I did not discover this show earlier. I mean, it is a prequel to "Psycho" which was directed by Alfred Hitchcock and I am a huge admirer of his work. So I had to check out this show. The first episode was really promising and I hope it will stay like that. The mother is so creepy...
2. My favorite Hitchcock movie is "Rear Window" ("Das Fenster zum Hof" in German) by the way.
3. I always wondered why the English language uses German words like "Schadenfreude", "Doppelgänger" or "Kindergarten". Is there a lexical gap or what is the reason for this?
4. Here is another English word that always sounds wrong when I say it: "questions". It sounds like something is wrong with my tongue. I can't help myself. Another word that I try to avoid as much as I can.
5. Germany got a solid 21st place (out of 26) at the Eurovision Song Contest. I really wonder why they don't just give up. I loved to watch this event when I was a child but now it is just a good reason for some "Fremdschämen". Vicarious embarrassment.
6. I was surprised to hear that Bonnie Tyler is not famous in America. David has never heard about her. I have always assumed that she is world-famous.
7. I am having the theme song of Benjamin Blümchen in my head for four days now and I can't get rid of it. At least it reminds me of my childhood and that makes me happy.
8. Sometimes I really can't believe all the stupidity in this world. People try to raise 200.000$ to get a video of a Canadian mayor smoking crack from a crack dealer. Yeah, it is a great idea to raise money to give it to a crack dealer! And no, there are no people or animals in need to give lots of money too. Just waste it.
9. Pretty much.
10. At some point in my life I need to watch all 331 episodes of ER again.
Have a lovely Tuesday!