Hallo meine Lieben,
happy Tuesday, everybody! I hope you are enjoying the day because it is a special one! But we will get to that.
I am linking up with Lin for another Ten On Tuesday.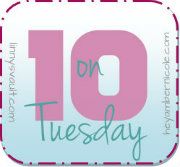 1. Happy bunny birthday! Today is Tiffie's fourth birthday! Yay! He is such a lovely little bunny and he and his buddy Findus (together with the cats for sure) make me happy every day! Tiffie, you rock! Alles Liebe zum Ehrentag! Ich lieb' Dich!
Love this picture of him! He is a very laid-back, sweet, cuddly, awesome bunny!
2. This story of the rescue of a baby goose really warms my heart. It is good to hear some positive stories once in a while. There are too many horrible ones.
3. I can't find my favorite pair of sunglasses anymore. And that drives me crazy. I know I did not lose them so they must be somewhere. I hate it when I can't find things. So I guess I will have to buy some new sunglasses because my eyes are very sensitive and always hurt when the sun shines (yeah, I know I sound like a wussy but it is how it is).
4. I want those.
5. Do you celebrate your pet's birthdays like human birthdays? I do.
6. I feel the need to do a puzzle. I even downloaded a puzzle app for my iPad but it is not the same. I need at least 1500 pieces.
7. Tolstoy really was a smart man. Examples?
8. It is his birthday so I think Tiffie deserves another spot in my Ten On Tuesday. Also I think that it would be a crime not to share his cuteness.
Can you find the cat in the picture?
9. My guilty pleasure "True Blood" will start again next month. I am a little excited but I already get annoyed when I think about Bill.
10. I adore Grumpy Cat's wisdom.