Hallo meine Lieben,
I hope you all had a fabulous weekend and are doing fine! I am linking up with lovely Lin from Linny's Vault for another Ten On Tuesday.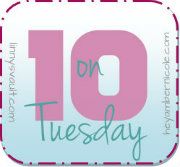 1. I hate the fact that they cancelled "Go On". I really really liked that show and I have no idea why they did not give it a chance. Seems like I have to start to watch Friends again. You can never get enough of that.
2. It sucks when funny Mother's Day videos make you cry in the end because you are not able to show them to your own Mom.
3. I tend to stress out really easily. So I think I should make a list of things that make me happy. And every time I stress out, I will look at that list, pick something from this list to do, look at, smell, think of, whatever. And hopefully it will make me feel better.
4. My mean English expression of the day is "grocery shopping". I hate to say the word "groceries" so I try to avoid it as much as I can. Instead I say that I need to go to the supermarket. Some words are just not made for Germans.
5. I think it is a very German thing to end English sentences with "right?". Like "We will go grocery shopping later, right?". I am pretty sure nobody else does that, only Germans. I catch myself doing that a lot. I think people will always be able to hear my German roots.
6. It is so funny to see that so many people eat chips for lunch. I have never seen that in Germany. It is totally normal for Americans but it always makes me laugh when David eats chips with his burger. For me, chips are an evening snack
which I eat on my couch while watching a movie.
7. Well I guess it was weird for David when I told him to eat fried potato patties (in German Reibekuchen, in my dialect Grumperküchelcha) with apple sauce.
8. I never check my Facebook feed.
9. I am absolutely in the mood for some rhubarb pie. Rhabarberkuchen in German. I think I haven't eaten it for over 10 years.
10. Grumpy Cat must have heard a really awful story. Kidney stones are horrible.