Hallo meine Lieben,
I hope you are all doing great. Today I want to tell you a little bit about my favorite childhood memories.
And I am doing that because I am linking up with some lovely girls for another Random Thursday. I am starting to feel better, by the way which is very nice because a runny nose can get really annoying. I wish I could sleep at night though. Oh well...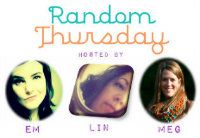 First of all, I can happily say that I had a wonderful childhood. I grew up in a little town with only 700 inhabitants. By best friends lived next door and I lived in a nice house with my parents, grandparents and pets. It was awesome and I love to think about all the great memories I have. I am very thankful that I had the chance to experience all these things.
So here are some of my favorite memories.
Play "Mühle" with my Grandma.
source
First of all I have no idea if this is right but the game is called "Mühle" in Germany and my dictionary says it is called "Nine Man Morris" in English. Please correct me if I am wrong but this is how the game looks like.
I loved to spend time with my Grandma, she was probably one of the five nicest persons on earth. Unfortunately she was very sick and died when I was only nine years old which was a huge shock for me. But I am so thankful that I had the chance to spend nine wonderful years with my Grandma Anneliese. In the evening I often went downstairs where she lived and we played board games together. This game was our favorite. I think my Grandma always let me win because the winner got a cookie. My Grandma also made the best cookies in the world.
A trip to the North Sea with my parents and my best friend Julia.
source
I don't remember how old I was but I spend 2 weeks in a house at the beach at the German North Sea with my parents and Julia. It was wonderful. Julia and I had our room in the attic and we felt pretty adventurous, we visited some cool islands, ate lots of ice cream, rode our bikes everywhere and even saw some seals at an animal sanctuary. And we spent every evening playing cards together. I will never forget this vacation.
Getting hurt on Friday the 13th.
Well I guess this is not the most wonderful memory but still one of my favorites because it is so typical for me and my life.
My birthday is July 13th which means that sometimes I have to honor to celebrate my birthday on Friday 13th which is known as the day of misfortune. I don't believe in this at all but I am a very clumsy person and this birthday ended with little Katrin covered in blood because she managed to get hurt four times in a row at her own birthday party. First I fell on my knee, then hurt my forehead, my arm and then the other knee. I must have looked very nice at the end of the party and I am pretty sure all the adults thought that I was cursed but I still had a wonderful time. I just did not care about all the disasters.
Well, there are so many others....I loved to spend time with my pets, my friends, my family, we went camping, had barbecues, went on vacations....
What is your favorite childhood memory?