Hallo meine Lieben,
if you read my blog on a regular basis you probably know that I am a huge fan of books and a huge fan of movies. So this week's Random Thursday topic is pretty exciting. Although I have to say that I usually like the books a lot better than the movies. I guess the problem is that when I read a book I already have images in my head of how the characters look like, hoe the scenery looks like, how the characters talk, the atmosphere of it etc. So I think it is pretty difficult or almost impossible to live up to my standards.
I guess almost everybody loves The Lord of the Rings.. I read the trilogy before I watched the movies (which I always try by the way) and I think both, books and movies, are absolutely brilliant.
I am also a huge fan of the Harry Potter books, I have read them several times, in German and English.
For my top 3 I have chosen some not so well known books and movies. Well, I guess the Stieg Larsson series is pretty famous now...Anyway....
The girl with the dragon tattoo by Stieg Larsson.
I have to admit that I discovered these books really late, I guess it was in 2011 which I can't really explain because I am a huge lover of all kinds of crime novels. But yeah, I was late and it is kind of sad that I did not discover it earlier but the books are definitely brilliant. I recommend them to anybody (I admit that all the names can be a bit confusing at first, there are so many members of the Vanger family).
I also have to say that I haven't even seen the Hollywood version of the movie with Daniel Craig but I definitely want to watch it at some point. But the Swedish version is absolutely brilliant, I usually love the atmosphere in Swedish movies.
Youth in revolt by C.D. Payne.
I grew up reading the journals by Nick Twisp, they made me laugh and cry and I could not stop reading. I have read them at least 25 times. Although these are the journals of a 14 year old I don't feel like they were only written for teenagers. I really don't. I still love to read them as much as I did when I was younger. So if you want to laugh a lot and don't mind reading about masturbation, rude alter egos, weird penises, varicosities, old communist neighbors with a bad mouth, transvestites and so on you will love the books.
In 2009 Hollywood decided to turn the first diary into a movie, starring Michael Cera as Nick Twisp. Well, I guess that guy was a decent choice although he does not look like I imagined Nick Twip. And I have to say that I was disappointed. The movie isn't bad, not at all. But it is okay. Not more than that. I guess you can like it if you don't know the books but that's it.
High Fidelity by Nick Hornby.
Again, I read the book first and loved it. Read it 10 times I guess and then watched the movie. And it did not disappoint. It is still a movie I love to watch when it is on TV. Sure, I love the book a bit more than I love the movie but it is still a really good one. John Cusack is perfect for the role of music lover Rob Gordon. I also love that Jack Black is in the movie because Jack Black is wonderful (can't get enough of Nacho Libre, School of rock, Orange County and Be kind rewind.). So I definitely recommend the book and the movie but the book a little more.
And because three are not enough: two other books turned into movies that I really love.
About a boy by Nick Hornby.
Well, I like Nick Hornby. And Hugh Grant.
Submarine by Joe Dunthorne.
Which I read in German first. I think the German title is weird: "Ich, Oliver Tate" ("Me, Oliver Tate"). I don't know why you would name a book called Submarine like that but okay. Germans seem to like to screw up the titles of foreign books and movies.
I was totally surprised when I found out that there is a movie. A really good one. The perfect coming-of-age comedy/drama in my opinion.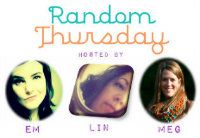 And now I want to know: what are your favorite books turned into movies?
Have a lovely Thursday!