Hallo meine Lieben,
today I want to tell you a little bit about my pet peeves.
But first of all I have to tell you that when I moved to America I had no idea what a pet peeve is . I did not know that expression, never heard of it before. So when I first heard about it I had no idea what people talked about. I assumed that it had something to do with their pets. Well okay, that was pretty stupid and I had to google it first.
Now I know what it means and I can actually talk about it.
People who spit on the ground.
It drives me crazy. First of all because it is so disgusting. I mean, come on, who would do that? And then it also shows what bad manners these people have. Every time I see someone spitting on the ground I say loud and clearly "Bah" or "Pfui" or "Igitt". I did not get beaten up yet. I just hate it. Please stop, people.
People who chew with their mouth open.
No, I don't want to see what you eat. Really. Another thing that disgusts me.
People who throw trash out of the car.
Why would you do that? Don't you care of the environment. Take your trash home and recycle it there.
People who yell at their pets.
People who talk on their phone so that everybody can hear it.
There is no need to scream. I am sure the person they actually talk to can hear them fine. And I don't care.
When people say "I got my hair did".
I just don't get it. It is also weird when people say "for my friend and I". Another thing I don't get is "y'all".
People who don't say "thank you".
Just be a little polite, it is not that hard.
In general people who seem to not care about the environment, animals, other human beings.
You are not alone in this universe. Show some compassion and commitment.
What are your pet peeves?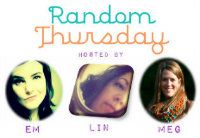 Have a lovely Thursday.