Hallo meine Lieben,
first I have to apologize for sucking so much at telling you stories from my Vegas trip. I still haven't sorted all the pictures and honestly I have no idea where to start. I guess you don't even care about it anymore but I thought I should use this Ten On Tuesday post to tell you a little bit more about the trip. And what's better than showing you some pictures.
Number one.
We tried to solve the mystery around Area 51 and visited the very famous Black Mailbox which is not black. Well, there is some black writing on it and I stand next to it and wear a black coat so maybe that counts as black enough. I don't know. Anyway, there are many conspiracy theories about this chic mailbox and people say it is the mailbox of Area 51. It was definitely fun visiting the holy grail of UFO lovers.
Number two.
When you try to take a picture of the fancy stage that belongs to the illusionist Criss Angel and angry woman will jump at you from behind and yell at you. She will tell you that this is strictly forbidden and that she will kick you out if you try it again.
Number three.
David and I are not really great at taking picture of us in front of glamorous fountains. We tried. But you can never see the fountain AND us.
Number four.
The same applies to taking pictures of rollercoasters. At least we tried. And I am obviously good at making stupid faces.
Number five.
A propos....when you take a picture with the only famous person that you meet on your whole trip, you should try not to make a stupid face because you will look at this picture in 10 years and will think that it would be nice to have a picture with a famous magician in which you don't look like this.
Number six.
If you are in the mood for a huge vegan burger you can go to Pink's. One portion of fries is enough for two by the way.
(Oh yeah...stupid face...)
Number seven.
It is totally awesome to watch the news while you take a shower. I would love to do this every morning. And it is also totally awesome to go into the shower with your camera to take a picture of what it looks like to take a shower and watch the news at the same time.
Number eight.
I can't help myself but the canals and gondolas in the Venetian don't feel very Venetian. Plus the water is way too blue to be Venetian. Still a cool experience to watch the people and hear the gondoliere singing.
Number nine.
I am 5'8" (I guess. I never really know if it is right. But I am defnitely 172 cm) but Penn is huge. He is even taller than it looks in this picture.
Number ten.
I tried to look like a mean serial killer who will die on the electric chair soon. This was taken at the Mob Museum and I recommend visiting it. Definitely a very cool and interesting museum. So much to see. We spent at least 4 hours there looking at all the exhibitions, shooting laser guns, watching short movies...
To be continued....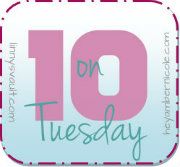 I am linking up with Lin. Have a lovely Tuesday!