Hallo meine Lieben,
hope you are all having a nice day! This week's Random Thursday topic is an interesting one like usual. I just don't know if I can contribute that much. I am thinking about this for a while but I am not really sure what awesome hidden talents I have to reveal.
I have weird thumbs.
Well, I am not sure if this counts as a talent but at least it is something that not everybody can do. I can dislocate my thumbs. A hundred times in a row. They always jump back into their normal position. But it looks weird and creepy. So it is nothing you can be proud of.
I am the cat whisperer.
I have never met a cat that does not like me. In Germany I volunteered in an animal shelter and on my first day I visited the cat house and saw two cats and the woman who worked there told me that the cats never let anybody pet them. After half an hour one of them sat on my lap and the other one let me pet her ears.
I can remember numbers very well.
Well, except of phone numbers. I don't even remember my own. But I am good with prices. I remember how much I paid for tofu two weeks ago in a certain store. Or how much my favorite beer at the store was when it was on sale. I also know how much I paid for my driving license years ago. And how high the gas price was when I got my first car.
Parking.
I am pretty good at reversing into a parking space. I can also change the tires of my car. All alone.
I am cursed.
I can mess up or destroy every electronic device I get into my hands. A pretty bad talent if you ask me.
I know who the killer is.
When I watch a crime show I know who the killer is. At least most of the time. And trust me, it does not make it less interesting.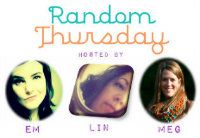 What are your hidden talents?
Have a lovely Thursday!