Hallo meine Lieben,
how is your week going? I finally got rid of my cold which is pretty nice.
It's time for this.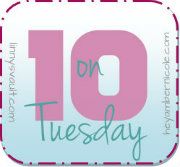 Number 1.
I found a very interesting article on Alex' blog (You should all check out her Stamp of approval Saturday, by the way. It rocks). Mariella is a well-traveled German who wrote an article about "Being German and the issue of patriotism". You can find it on her blog Bridge Keeping Traveler. I love her article, I can totally relate to it. There is an issue with being German and patriotism. Germans are very hesitant to say that they are proud of their country. It is something you just don't do because people could take it the wrong way. Okay, I admit that there is one exception. You can be proud to be a German during the soccer world cup. There are flags everywhere....but except of that you learned to be a little careful in expressing your feelings for your country.
Number 2.
This heartbreaking story shows me again how smart animals are and how cruel human beings can be.
Number 3.
I really really love my iPad mini!
Number 4.
Well, goat vs. cat looks pretty much like bunny vs. cat.
Number 5.
I really really need a new haircut. I am talking about this for weeks but I think I finally need to do it. Probably next week. I don't want to look into the mirror anymore.
Number 6.
I am so obsessed with "Bones" at the moment that I haven't watched anything else in the last couple of days. Not even The Mentalist or Girls.
Number 7.
I love boots and scarves and hats and gloves...but I am ready for warmer weather. It's time. I want to wear ballerinas!
Number 8.
Do you listen to podcasts? If so, do you have any recommendations? I would like to start listen to one but I haven't found the right one for me yet.
Number 9.
My newest food addiction is oatmeal with vanilla soy milk and cinnamon. I wonder what will be the next one.
Number 10.
I apologize for being so uncreative today. I will do better, I promise. It's just a pretty busy day.
Have a lovely Tuesday!