Hallo meine Lieben,
hope your week is going great! It is time for another Random Thursday post. And the topic is this one.
Oh well, there are many things I am addicted to. I have to say that I am obsessed with so many things. I just need more time to do all the things I am addicted to. But let's start.
Books.
I guess that's not a big secret. My dream would be to own a library, thousands of books in a cozy room with high bookshelves, a fireplace and a cozy armchair. Trust me, I would not leave this room anymore. I can spend hours in a bookstore, I love to discover new books and I don't want to be disturbed when I read because this means that I am not "there". I am in my book. Crime novels are my favorite by the way. But all kinds of books are awesome, if it is fiction or non-fiction.
David.
What can I say...he rocks. He makes me happy. That's why I married that guy.
Animals.
I don't want to live without animals. They make me smile, they cheer me up. One day I want to be able to live at a place with lots of rescued animals. Cats, dogs, bunnies, sheep, goats, donkeys, chicken, cows, pigs....They are all welcome.
Flea markets.
I always find something special there. Old books, jewelry, decoration, furniture. For me it is the perfect way to spend a Sunday afternoon.
Beauty products.
I love to try new beauty products. When they are cruelty free. The one above is pretty awesome. I own lots of lipsticks, nail polishes, eye shadows and so on. I also can't get enough of body lotions, bath bombs, face masks....I am a girl. I admit it.
TV shows and movies.
So many shows and movies to watch....just not enough time. My all time favorite movie is The Boondock saints. You can read about some of my favorite movies here. I am totally addicted to the show Bones right now but some of my all time favorites are ER, Friends, Castle, The Big Bang Theory, Breaking Bad, Black Books, Freaks and Geeks, New Girl, Sex and the city and many more. I also love cooking shows, documentaries about science and animals, What not to wear....
Tea.
I have always loved tea. Currently I am loving it even more, I rarely drink coffee at the moment. I don't know why but I can't get enough of tea. My favorites at the moment are Moroccan Mint and green tea.
Magazines.
I really love magazines, all kinds of magazines. I read women's magazines, magazines about food, animals, science, fashion, gossip, arts and crafts...I love to drink a cup of tea and look through a magazine. All the articles and pictures inspire me.
DIY.
I love to paint, to knit, to draw, to make jewelry, build my own furniture, decorate the house, take pictures, I want to learn how to sew...it all fascinates me so much.
Food.
I love to eat and to cook and to bake. It is a perfect way to relax. I love to read cooking books and to try out new recipes. I would say that Indian food is my favorite but I also love Thai, Italian, Mexican, Chinese and German Sauerkraut for sure.
Music.
I would not say that I am very musical but I love to play instruments and sing ( I am terrible), I love to listen to my favorite songs over and over, I have been to lots of concerts and every single one of them was special. No matter if it was Trail of Dead in front of a couple of hundred people, Robbie Williams in front of 60000 or the biggest Rock festival in Germany. I just love it. And one day I will learn how to play piano...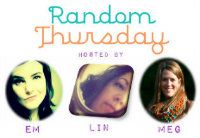 What are your addictions? Please tell me!
And have a lovely Thursday!