Hallo meine Lieben,
it's time for some random Ten On Tuesday again. You can link up on Lin's blog here.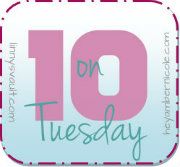 1. I am still shocked because of yesterday's events. Sometimes I really can't believe all the hatred and cruelty in this world. What is wrong with people? We could all live together in peace.
2. I love Peter Dinklage in Game Of Thrones but this makes me like him even more. Way to go!
source
He is a global ambassador for Cruelty Free International now and speaks out against animal testing. You can read more about it here.
3. I beg you to listen to this song, at least for a couple of seconds. I am pretty sure this is a piece of music history and you can't miss this.
One of the most entertaining songs ever. My favorite person in this video is the guy on the right behind the piano. He looks like he is totally into the song.
David discovered the song a couple of days ago and I have to say that it is pretty addictive. Hilarious song. The lyrics, the dance moves, the people....
4. I started to watch The Carrie Diaries and I expected to not like it very much but I have to say that it is pretty good. It does not really feel like a prequel of Sex And The City most of the time to me but it is definitely a very entertaining show. I can't understand why David does not want to watch it.
5. April 27 is Save The Frogs Day! How cool is that? You can read more about it here. I am sure Henri the toad would like that. I mean, they are related.
6. Grumpy cat rocks.
7. I am sure we would be great friends.
8. I never find anything when I go shopping and look for something specific. I only find things when I don't want to buy.
9. I tried to suppress it but I found the proof that I ate meat a long time ago (It's "Lyoner", a specialty from my home state). I am sorry.
10. I wish I would still own that fabulous shirt in the picture above.
Have a wonderful Tuesday!