Hallo meine Lieben,
I thought it would be a good idea to find a theme for this week's Ten On Tuesday post. I have thought I lot about things that I would like to do at least once in my life and I think it is a good idea to write them down to get motivated.
Take a ride in a hot air balloon.
I "stole" this dream from my Mom. She always wanted to do it and talked about it a lot. My Dad and I planned to surprise her with a hot air balloon ride for her next birthday but unfortunately it did not happen. And because my Mom was never able to do it, it is very important for me to make it happen. For myself and my Mom.
Learn how to play piano.
Well, there are a couple of instruments that I would love to be able to play but it would be extremely cool to have a fancy piano in my house and be able to play it. I should really start and take some lessons. The thing is that I don't think that I am very talented when it comes to playing an instrument. I can play a bit of saxophone and I took bass guitar lessons but I would not play in front of an audience. Too embarrassing. David is so talented and he can play so many instruments...we talked about taking piano lessons together and I am sure that I would be in the beginner's class forever and he would be a professional after two weeks.
Build my own furniture.
I don't know why but I love to work with wood and heavy machines. I already built a book shelf years ago but I have so many other ideas. I just need the time and space and material to start.
Learn more languages.
I would love to speak more languages. It would be awesome to understand every language on this planet but I guess that is not possible. Obviously I can speak German and my English is okay. I can also speak some French and a tiny bit of Italian. Oh, and don't forget about Latin, the most important language nowadays. But I need to work on my French skills and it would be great to know some Icelandic, Swedish, Spanish, Russian and so on.
Travel to the places I love.
There are so many places that I would love to see. I would pretty much love to travel anywhere but there are some places that are definitely on top of my list. Places like Ireland, Iceland, Christmas Island, Sweden, Latvia, India, New Zealand, San Francisco...
Learn how to sew.
I am still fighting with my first knitting project but I would also love to be able to sew my own clothes. I just need to get started.
Give animals in need a home.
I would love to live at a place where I have enough room and time and money to give more animals in need a new home. And I am not just talking about cats and dogs and bunnies. I would love to offer my home to cows and sheep and chicken and donkeys...Being with animals makes me so happy.
Know everything.
I am currently reading "The book of general knowledge" and I know it is not possible to know everything but I would love to know as much as I can. Like Vincent from Bones. He knows so many things and I am always impressed. And yes, I know it is just a character in a TV show.
Write a crime novel.
I love to read them and it would be even more awesome to write my own. I always try to come up with an idea but I always think that people would figure it out too fast. Maybe someday.
Stop animal cruelty.
That's a tough one. I always feel so terrible when I say all the cruelty in this world. I feel helpless, angry and sad. It breaks my heart. I really wish I could end all the terrible things that are going on, stop all the horrible people who treat animals in a bad way....
Be happy.
This world can be a scary place. There are so many unknown things. Plus life can be short. So we should always try to make the most out of it. Sometimes that's hard. Sometimes we fail. But I want to try to live the life that I imagine in my dreams.
What are you dreaming of? What are the things you always wanted to do, to try, to experience?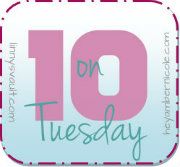 Have a fabulous week!