Hallo meine Lieben,
time for Ten on Tuesday with lovely Lin from Linny's Vault. I hope you are all having a great week. Let's start.
1. Who watched True Blood? It was such a smart decision to let Alcide dig a hole in his father's yard without any reason just to show off his shirtless body. I mean, there was no important story line that included him but you should show his half-naked body at least once in every episode.
2. I am so sick of hearing Lilith's name and seeing her bloody naked body all the time. Can somebody kill her please? Eric? Would you?
And now I know why I always hated Bill. He is so annoying!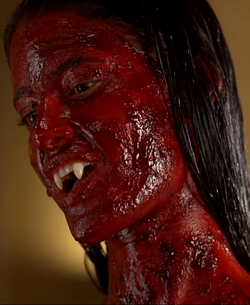 source
3. I got a pretty cool new shirt. I guess I am a nerd. But I just love Star Wars and Yoda is my favorite character. He absolutely rocks because he is so wise and powerful.
4. I made some new furry friends. A cat and two dogs. They are totally awesome.
5. I ate a whole lot of Sauerkraut last night and it was delicious. I can't understand why David doesn't like it. He says it's too sour but hey, that's the main thing about Sauerkraut. My plan is to make a Sauerkraut-potato-gratin soon.
6. I totally turned on the heater in the bathroom this morning. It was way too cold to take a shower. It was only 14 degrees Celsius this morning. That's freakin' cold.
7. I got another wonderful surprise from my fabulous friend Miki! She sent me this amazing emergency kit and she absolutely made my day! She always makes me smile so much!
Thank you so much, Miki, Dante & Dimitri! You rock!
8. I totally have to live in Iceland someday.
9. I have a new addiction. Horseradish. In my opinion you can totally combine it with everything. It's delicious.
source
10. I would love to be a professional poker player. I don't know why. I am not even good at playing poker because I can't make a poker face.
Join Lin and write your own Ten On Tuesday, it's so much fun!
Have a lovely day!