Hallo meine Lieben,
I want you to meet a very lovely friend of mine today! Amanda is an American who moved to Germany last year with her husband who is a medic in the Army!
I love her blog because it is so much fun to read about her life in Germany from an American perspective.
And I know that you will love her blog too so please go over and say hi!
(She also has two adorable dogs so you'll get to see some very cute pictures too!)
Amanda, thank you for your awesome guest post and for being such a great friend!
--------------------------------------------------------------------------------------------------------------------------------------------------
Guten Tag, Katrins Lieben! I'm Amanda from
Overseas Adventures
, and I'm happy to be posting here today. I am originally from the United States currently living in Germany. I'm sure you all know Katrin is from Germany and lives in the United States. In fact, Katrin lives in the state I was born and grew up in, Ohio. Today we decided to do a guest post exchange where we would each write about what we enjoy where we live now. You'll find what I love about Germany below, and you'll find what Katrin loves about Ohio and the United States
here
.
What I Love About Germany
Germany is a small country
While it might seem like a drawback to be in a country smaller than many American states, it can actually be a benefit. I've been in Germany about nine months and explored about as many cities, some a few times, and that's a small number for the opportunities I've had. But it's more cities than I would have gone to in the same amount of time in the States. If I wanted to go out of state in the US, I was looking at a few hours of driving just to get out of my own state. Here, in a few hours, I could pass through a few German states or even cross the country. The drive from Toledo, Ohio to Orlando, Florida (where I lived for about three years after I moved from Ohio) is over 18 hours. The drive from where I live in Heidelberg (in south western Germany) to Flensburg (in the northern tip of Germany) would only take a little over seven. Having everything within the country so close means there is a lot I can see without even having to take vacation time to do it.
Hohenzollern Bridge and Cologne Cathedral. Cologne (Köln) is a couple states north of the one I live in, but less than a three hour drive.
Germany borders and is close to many countries
When I lived in Ohio, I could reach Canada in about an hour, and I went up to Windsor once. Florida provided easy access to cruises, and I took ones to Nassau and Coco Cay in the Bahamas and to Cozumel, Mexico. But for the most part, travel to other countries was out of my budget and out of the range of time I could take off work, so the instances previously mentioned were the only times I left the country until I moved to Germany. While I still haven't gotten outside of Germany (although I plan to soon), there are plenty of opportunities to explore other countries from here. Germany borders Denmark, the Netherlands, Belgium, Luxembourg, France, Switzerland, Austria, the Czech Republic, and Poland, and there are many other countries not much further away. Some countries are close enough that I could go over a weekend. Heck, if I left by noon, I could be in Paris in time for dinner. Of course, now that I realized that, I'll have to do so some time. Having these kinds of options is one of the things I most love about living here.
On the plane to Germany, the back of the seat ahead had a map where we could check how far along we were, which also serves to illustrate how close we are to other countries.
The Autobahn
I actually still don't have a license here, in part because we only have one car, and I walk to work. But even as passenger I can appreciate the Autobahn. While it's not entirely the no-speed-limit highway Americans often think of it as (some places have speed limits, usually 100km-130km, about 62 to 80 mph) there are many areas where one can go as fast as they care to and are capable of, provided there isn't a traffic jam, known here as a Stau. In America, the fastest I was ever legally allowed to drive was 70mph, and many highways only allow 50-65mph. It's nice that when we're in a hurry or just want to drive fast, we can go 80mph and cover the distance faster than could legally be done in the States (and not have to worry about a ticket for doing so). I am planning to get my license soon and look forward to eventually being able to drive on the Autobahn myself. I imagine once I get used to that, it will be a bit hard to go back to highways of lower speeds.
View along the Autobahn on the way to Cologne.
Restaurant practices
I liked to eat out in the States, but it was a different experience. Here, food is made fresh to order with seasonal ingredients, which isn't the case in many places in America. If you sit at a table, you can be there 'til they close, and the waitresses won't glare at you or tap their feet. In the States, many restaurants are about turnover and would not want patrons sitting there all night. Another thing I like is that they do not serve ice in the drinks in most places (or only put in a couple cubes in the restaurants that serve more American-style fare). Some Americans dislike this, but I love it because I don't need a refill (which aren't free here) if it's all liquid in my glass, and my drink can't get watered down if I don't drink it quickly from all the excess ice. Another thing I like is that soft drinks in many places come in a bottle and are served with a glass to pour it in, which is much better than paying the same price for a fountain drink.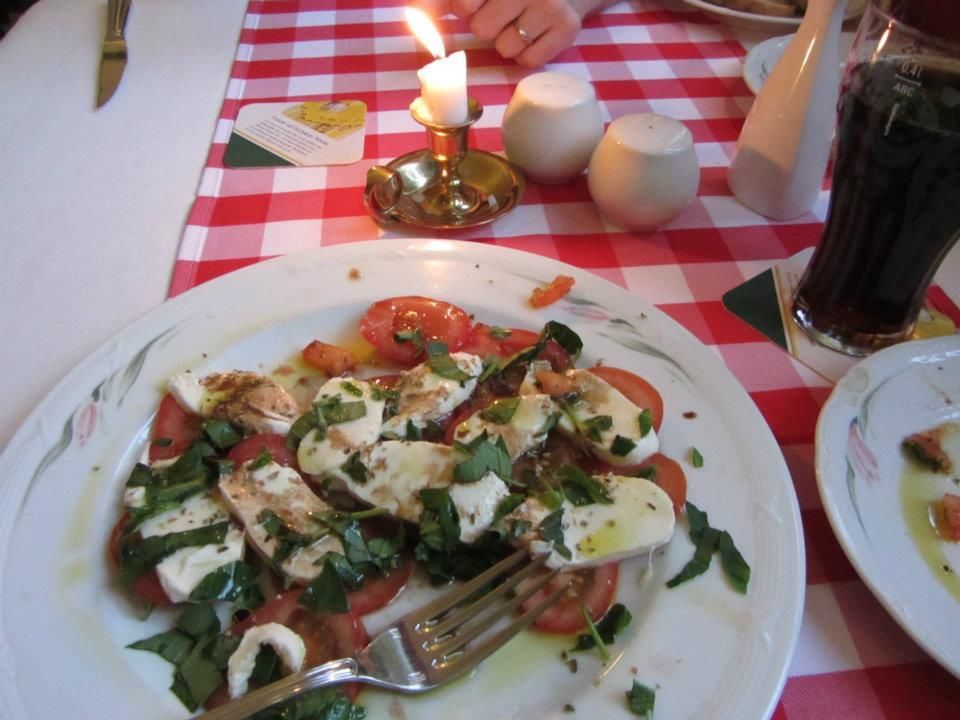 Restaurant in Sandhausen Germany, where you can see we had fresh tomato and mozarella as well as the way the drinks are labeled by a liter line and lacking ice.
Food in general
I love food in Germany. While I prefer some foods to others, I've never gotten anything I'd consider "bad" while eating out here. One of my favorites so far was the Flammkuchen (Flame Cake) I tried in Mannheim. Even when shopping for food for home, healthy options like organic food are easy to come by and actually expected to be the norm. In fact, anything that consists of or contains genetically modified organisms (GMOs) must be labeled. While Coca Cola isn't exactly a healthy option, I prefer that in Germany my Coke and similar drinks are made with sugar instead of the high fructose corn syrup they're made with in the States. If there's one thing I will miss in Germany besides the easy access to travel options, the ability to easily and affordably get healthier food will be it, unless America decides to adopt some of the standards of Germany, which I would really like to see.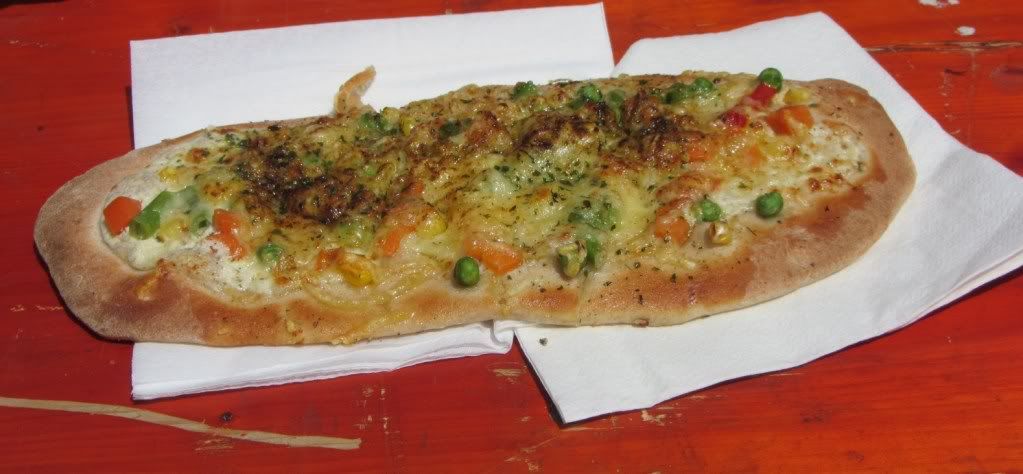 My first Flammkuchen (Flame cake), one of my favorite foods I've had here.
Opportunities to learn
Since arriving, I have learned a lot about the history of things in Heidelberg as well as some other places in Germany that I doubt I would have been exposed to otherwise. Taking four years of German in high school helped me in have a foundation for the basics of the language and some of the culture, but being here has allowed me to develop my language skills further and learn more about the culture. While I live on post and don't get exposed to the German language on a day to day basis, I do get the opportunity to talk to people in German when we go out. At home, in addition to using some self-study tools, I purposely expose myself to the language through listening to German music, watching movies in German with English subtitles, and reading books that have German and an English translation side by side. Thanks to a partnership that UMUC Europe has with Bowie State University, I'll even be able to pursue my Master's in Counseling Psychology while we live here, which is something I originally thought I'd have to wait until we were back in the States to do. All around, Germany provides me a lot of opportunities to learn.
Heidelberg viewed from the Philosophenweg (Philosopher's Way). The city I live in is just one of the many places I have the opportunity to learn while living in Germany.
If you've enjoyed this peek into what I enjoy from Germany and would like to know more, please stop by
Overseas Adventures
where you can learn more about life in Heidelberg and traveling abroad. Also be sure to check out our next exchange where I'll tell you what I miss from the United States, and Katrin will share what she misses from Germany. Thank you for joining me, readers, and thank you for having me, Katrin. Tschüss!
------------------------------------------------------------------------------------------------------------------------------------------------------
Amanda, thank you again! You rock!
PS: You can check out my guest post at Amanda's blog Overseas Adventures!
Have a lovely Wednesday!