Hallo meine Lieben,
time for another link-up with these lovely ladies.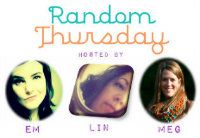 This week's topic rocks as usual.
Actually one time I found 50 Euros (~67$) one the street. I walked across a parking lot with my friend Barbara at university and we saw that 50 Euro note on the ground. So we looked around to see if somebody was searching for it but we did not see anybody and grabbed the money. Later that day we went to the store and got lots of food and drinks and had a nice evening with our friends. That was very exciting.
So if I would find 100 $ I would probably not spend it just for myself. I would see it as a sign to do something nice and would go and buy something for David. Something for the cats and the bunnies. And then I would buy some food and bring it to the animal shelter. That would make me feel good and make others happy.
I guess I'd surprise David with a ticket for a band he wants to see. And if there would be a couple of dollars left I would treat myself with a little something. Like a lipgloss or a book.
source
So hopefully I will find 100 $ soon.
What would you do if you found 100$?
Have a lovely Thursday!