Hallo meine Lieben,
it is time for another awesome link-up with these fabulous ladies.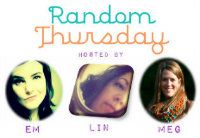 Well, I have to admit that I had to think about this topic a lot. I asked David for advice but his answer was that I have low standards when it comes to TV shows which is completely untrue. I mean, all my favorite shows are really great but sometimes I enjoy to watch some shows where you can just completely stop thinking. That's normal. Everybody does that. Am I right?
So, the topic is.
1. Toddlers and tiaras.
I checked this show out when I first moved to America. I was curious because we don't have beauty pageants like that in Germany. At least not that I know of. But what I saw was just crazy and made me want to slap these crazy mothers in the face. I never watched it again.
2. Germany's Next Topmodel.
Heidi Klum is the host and she is just completely annoying. I can't stand to watch her talking crap. I don't know if she is as annoying in America as she is in Germany but I haven't watched any of the latest episodes.
3. The Bachelor.
I have only seen the German version but the candidates were so dumb that I had to stop watching. The concept of that show is so stupid.
4. Glee.
I checked out one or two episodes when they started to air that show and I think I have never been so bored of a TV show. Plus all the annoying singing....help!
5. Any show with the Kardashians.
They are dumb, annoying and like fur. Three reasons not to watch their shows.
What shows do you hate? And why?
Have a lovely Thursday!