Hallo meine Lieben,
another Random Thursday with these fabulous ladies today. Welcome to the new host Meg who is such a wonderful person and awesome friend. Thanks for hosting, lovelies.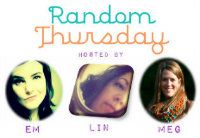 This week's topic is...
Well, I guess there are a couple of things that I can't resist and that I would never ever get rid of again.
Let's start with the most important thing...
Books. I have never counted all my books but I never stop buying new ones. When I see a book I am interested in then I need to have it. Especially crime novels. That is why I love flea markets so much. You can shop for books and buy anything you want without feeling guilty about spending too much money. As I said, I never counted my books but I would guess I have around 400. Maybe less, maybe more. And I just buy them, not sell any of them. Ever.
Magazines. Magazines are such great entertainment. I love all kinds of magazines. Fashion, cooking, entertainment, gossip, decoration, travelling, crafty magazines. My mother-in-law got me a couple of subscriptions so now I have a huge stack of magazines and no time to read them. But someday I will find the time. I know it.
Beauty products. Cruelty free for sure. I love anything I can use to pamper myself. It makes me feel good. I love nail polish, body lotion, lipsticks...anything.
Shoes and clothes. I am a girl, what can I say. I probably have more shoes that I can wear but I love every single pair. But yeah, I throw them away when they die. But I love to have shoes in different colors and different styles. Ballerinas, boots, sneaker, high heels. I guess every girl loves shoes.
Are you a hoarder too? What are the things that you can't stop buying. Oh, I forgot. There is one thing that you don't have to pay for. When I see a stone on the ground that looks cool in any way then I have to pick it up and take it home. Weird.
Have a lovely Thursday!
Oh, and please go here and tell my husband David what kind of music you listen to. He would love to hear more about your taste in music!