Hallo meine Lieben,
time for another fun Random Thursday with these lovely ladies.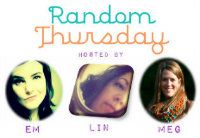 Hope you are all doing wonderful. I love this week's topic and I can't wait to see the other girls' posts. And the vlogs (Thanks, Meg!)!
I thought about doing a vlog too but I need to figure out all the technical problems first before I can even think about recording my weird German accent.
Here's the topic.
Well, my purse is usually a mess. So you have to add some random papers and receipts and stuff like that. I am sorry for the poor quality of the picture but I had to take it with my iPhone.
1.
Books.
I always need to carry some books. I don't have a case for my Kindle, that's why I don't carry it around that much. I feel empty without books so I always need to have some with me. Currently I am carrying Erbarmen by Jussi Adler Olsen and Why we love dogs, eat pigs and wear cows by Melanie Joy.
2.
Hand sanitizer.
You never know when you need it and it always make me feel better when I can't wash my hands but feel like it.
3.
Wallet.
You know, for money and credit cards and driver's license and stuff.
4.
A scarf.
That is just my back-up scarf. I wear a scarf but you never know when you need a second one. I am always cold.
5.
Headphones.
I love to listen to music so it is nice to always be ready.
6.
A pen for my nails.
I have very dry skin on my hands so this helps to take care of the skin around my nails.
7.
Hand cream.
"Handy Gurugu" by Lush, best smelling hand cream ever. Again, for my dry skin.
8.
A button.
You never know when you need a button.
9.
My phone.
Well, this is just the case for my phone because as I said, I had to take this picture with my phone.
10.
My glasses.
My eyes are pretty bad and you never know when you lose a contact lens.
11.
Pens.
To write things down.
12.
Lip balm.
Not only the skin on my hands is dry. This lip balm smells like peppermint. I might be a little addicted to lip balms. You can never have enough.
13.
Nail polish.
Because girls need nail polish. This one is from Beauty Without Cruelty and the color is just so cute.
14.
Lip gloss.
This one is called Velvetines from Lime Crime, the color is Suedeberry.
15.
Face cream.
Dry skin, you know. This one contains roses and smells so incredible.
16.
A lip scrub.
It is from Lush and smells like chocolate and mint. Delicious.
Okay, what is in your purse? I am curious. Is your purse messy or not? Do you carry around a lot of stuff?
Have a wonderful Thursday!