Hallo meine Lieben,
I hope you are all having a wonderful week! I am enjoying the weather here in Ohio. I can't help myself but it smells like fall in the last couple of days. I can't describe how fall smells but it gives me a certain feeling that I really enjoy. I love fall weather so much. But I guess it is supposed to get warmer over the weekend. Okay, enough about the weather.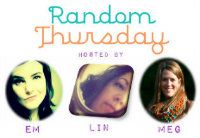 Here is this week's topic.
I know, that show lasted for 15 seasons but I wasn't ready to say goodbye. I cried when I watched the last season. I grew up with this show and I love it so much, all the characters, all the story. It still makes me sad that I will never see a new episode again. All I can do is to watch it over and over.
Another show I never wanted to end because I love the characters so much. I think I have watched each season at least 15 times and it will never stop being funny.
One of my favorite shows ever. I love everything about this show and I miss it so much.
I fell in love with the characters....and then they cancelled it. Life is unfair.
There are definitely not enough episodes of this show. The cast of that show is so fantastic. I will never understand why they cancelled it. Never ever.
I am pretty sure there are more shows to mention but these are the top 5 that popped into my head. Uh oh...Party Down! I forgot that! Love that show! And Black Books!