Hallo Ihr Lieben,
it's me again. Talking about the differences between my two favorite countries. The topic I want to talk about today is "driving". I have never thought that there would be so many differences.
It starts with the car. As a German I am used to drive a car with a gearshift and a clutch. I have never driven an automatic car before. You should think that it is easier to drive an automatic car but NO. It isn't. At least not for me. It was hard to get used to an automatic car. And it still is. I feel so redundant because I don't really need to use my right hand, I don't need to use my left foot. It drives me crazy. I mean, every time I stop I want to use my left foot but then realize that I don't need to do that. I want to change the gear all the time. But I don't have to. I think I will never get used to it. I love driving a German car because I feel like I am needed. I have to do things. It keeps me entertained.
Another thing that freaks me out is that it seems like there is no such thing like "Rechts vor Links" (left yields to right) in America.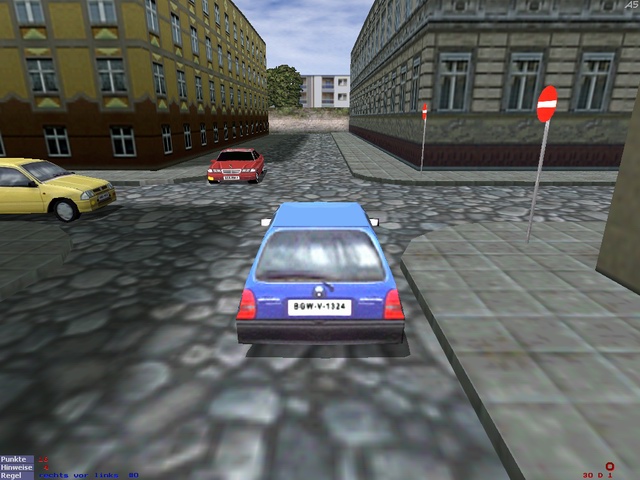 It is confusing. I mean, in Germany the blue car is allowed to drive first in that case because there is no car on its right. Then the yellow car can drive and finally the red one. But how is it in America? I asked David about it but it really seems like there is no rule. So is the biggest car allowed to drive first? The most expensive car? The fastest car? The driver who can yell really loud? I really don't know. But no, I never had an accident. And I really hope it won't happen because of all the confusing rules.
It drives me crazy that cars are allowed to pass other cars on the right. It is forbidden in Germany. The slow cars drive on the right and then you can pass them on the left. In America everybody drives the way she/he wants and you have to be careful not to run into another car when you change the lane. Dangerous.
I am allowed to drive as fast as I want on the German Autobahn.
(By the way, David has the exact same shirt. He got it from his Dad who went on a business trip to Germany a couple of years ago)
As far as I can see you are allowed to drive 65 miles per hour on most highways in America (I have seen 75 mp/h in Colorado). That is only 104 km/h. So slow! I have to admit that on some German Autobahnen you are only allowed to drive 120 km/h. But that is still a lot faster than on every American highway. Most times I drive around 130-140 km/h on the German Autobahn and I am definitely not the fastest driver. But 65 mp/h on a road that is completely straight and has 4 lanes? Come on! Maybe you think that the Autobahn is more dangerous than the American highways and that there are more accidents but I don't think so. I have read that the Autobahn is pretty safe.
And why are your traffic lights on the other side of a crossroad? That's confusing for Germans.
Here is a German traffic light.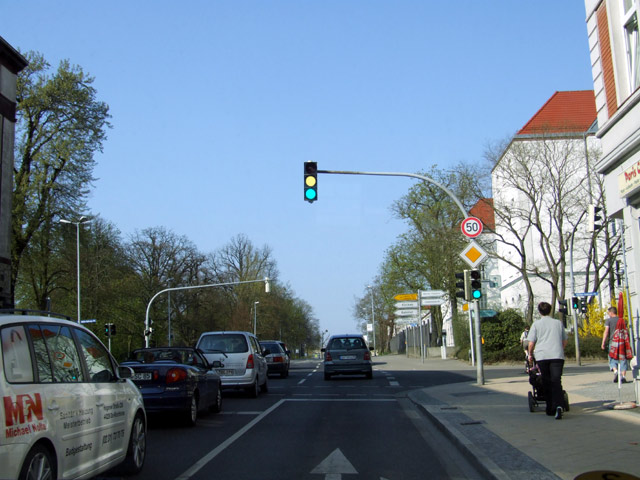 And why do some of the American cars look like they are not able to drive 2 more miles? In Germany we have an institution called "TÜV" and they check your car every two years. If something is wrong you are not allowed to drive that car until you have fixed the problem. But it seems that something like the TÜV doesn't exist in America. Some cars are just rust on wheels. I'd say that's not safe at all! We are allowed to drive fast in Germany but at least we have secure cars. I guess that's why you are only allowed to drive 65 mp/h in America.
At least there is right-hand traffic in both countries. I think left-hand traffic would overcharge me.
Did you ever drive in another country?